Radiology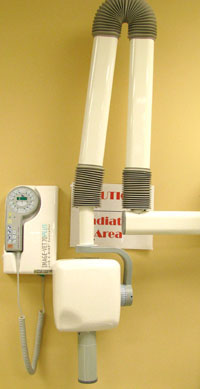 As a pet owner, you know it is important to recognize when your pet is not well. Your companion pet can not exactly tell you when it hurts, where it hurts or why it hurts. When you bring you companion pet to the veterinarian you rely on them to come up with the answers to certain signs and symptoms you've noticed. Because of the lack in communication within the patient-doctor relationship, we rely heavily on technology. Here at the Alexandria Veterinary Clinic Pet Care Center our goal is to have the latest and most up to date technology. One of the technologies we use most often for diagnostics is a radiographic image. A radiographic image is a precise interpretation of density patterns. Radiographs are useful for diagnostics and allow us to look at hip dysplasia, heart disease, fractures, arthritis, bladder stones and many other conditions. The Alexandria Veterinary Clinic PetCare Center has committed itself to high quality radiology equipment with an Innovet X-Ray machine.
One of the newest pieces of equipment we've purchased is one that we truly believe will improve the quality of life in many dogs and cats. This is the ImageVet 70 plus Dental X-Ray machine. Just like human dentistry, veterinary dentistry is equally important. Dental x-rays are used to study and document the progress in therapeutic treatments of all stages of periodontal disease and oral diseases. These radiographic images can also determine the extent of periodontal disease.
Radiographic images serve many important purposes and become a very important diagnostic tool.