Boarding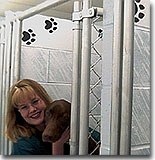 Need to Get Away? Check Out Our Newly Remodeled Boarding Suites, General Boarding, and Day Boarding.
Your special pet will enjoy a comfortable, safe stay at the Four Paws Lodge. Pets receive personal attention with the same loving treatment they're used to at home! As an added benefit for our feline friends, we have recently added a separate boarding area for cats.
1.) Boarding Suites (Individual Rooms, Plush Beds, TV's, and Rugs)
2.) Dogs exercised outside twice daily
3.) New, clean, roomy, kennels with heating and air conditioning
4.) Special diets available
5.) Convenient discharge times on Sunday: 10:00 AM and 5:00 PM
6.) Discounts for extended stays & multiple pets
7.) Courtesy baths given to all boarders that stay three or more nights
8.) Medical attention available if needed
Call Four Paws Lodge at 320-762-0327 for more information.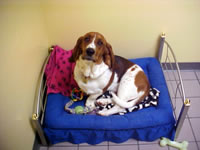 Boarding Suites pamper your pet with a home like setting complete with beds, rugs, and TV's playing animal favorites.
Reserve suites such as: Remington, Fisherman's, Sunshine, Tigger's Inn, Ocean View, Rainbow, Meadows, and The Summit. Visit the suites here!
Click here to view our kennel wards!
In order to expediate your boarding check in, please feel free to download and fill out our Boarding Admission Form and bring it when you drop off your pet!
Relax, and Enjoy Your Time Away!
For information on additional services your pet can receive during their stay with us visit our Additional Boarding Services page.