Orthopedics
​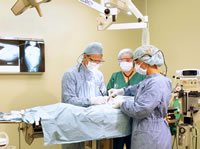 ​As many owners know, pets are very athletic and energetic. This can lead to orthopedic injuries. Pets have problems such as fractures, dislocations, and​​ ligament tears. These require prompt medical attention to promote healing and prevent life long damage. The Alexandria Veterinary Clinic PetCare Center is dedicated to diagnosing lameness using physical examinations and radiology to establish a solid diagnosis.
The clinic handles most fractures and dislocations in house. The repairs are done using bone pins, external fixation, splinting or casts. Laser technology is also helpful in reducing pain, bleeding and swelling during surgical procedures. Common conditions such as torn cruciate ligaments and correcting luxating patellas, are also surgically corrected at the PetCare Center.
TPLO (Tibial Plateau Leveling Osteotomy) procedures are performed by Orthopedic Surgeon Dr. Calvin Kobluk, he specializes in all forms of orthopedic procedures including TPLO, TP, FHO (femoral head ostectomy), fractures, luxations, and special soft tissue procedures. These procedures are preformed on PetCare Center patients as well as referred pets throughout central Minnesota.
Before repairing orthopedic injuries the patient is given a thorough examination and the client is given a treatmeant plan for their procedures.
It is the Alexandria Veterinary Clinic PetCare Center's goal to return patients back to their previous athletic ability.


Broken leg before and after bone pining.