In House Lab

It can be very difficult to reach a medical diagnosis from clinical (outward) signs only. A diagnosis should come from a combination of a detailed medical history, careful physical examination and diagnostic tests.
We have strived over the years to develop a state of the art in-house lab. Having the ability to get same day results is very important for critical cases and for pre-surgical screening. For most tests we can take a sample and within a few hours have results and a treatment plan underway.
For surgery cases the patient is dropped off in the morning, a blood sample is taken, tests are run and if the test results are within normal ranges, surgery can be started.
We have an Automated Hematology system, and a Chemistry & Electrolyte analyzer. We will continue to use commercial labs for some of our testing, but feel that our in-house lab helps us make a more timely diagnosis so we can provide faster treatment to the patient.

​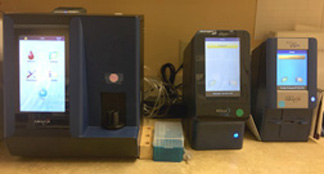 ​


Please feel free to contact us if you have any specific questions.