Meet Our Veterinary Team
The Alexandria Veterinary Clinic PetCare Center has a staff of four doctors and an exceptional support staff of certified veterinary technicians, client service representatives, and groomers. Health care at the clinic ranges from preventative medicine to critical care. Our veterinarians have more than 100 years of combined veterinary experience to help you with your special pet. We offer state of the art technology including laser surgery.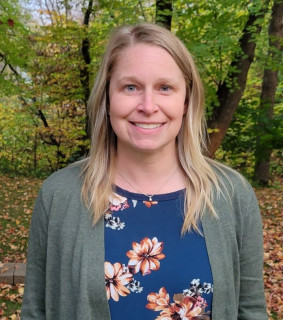 Chris, Practice Manager
I have been a part of the clinic since 2001, and every day has been a new experience. What I truly enjoy the most about working at the clinic, is how much we are like a family. I value the relationships that I have built with our clients and their pets over the years.

I enjoy being on the lake during the summer and spending time with my family. When we are not on the water, we are watching our boys snowmobile race during the winter. I have two dogs and a cat.

Cameron, Bookkeeper
The top thing I like about working at the clinic is the fact we are a smaller business and more of a family here. It makes the work much more enjoyable. Of course, I love to see the different animals that come into the clinic.

I received a bachelors degree in Business Administration from MSU Moorhead. I have one dog, his name is Hank and he is a Great Dane. A few of my past times are spending time with friends and family, being outdoors and traveling.
Jerry, Maintenance/Route Truck
I have been apart of the AVC team since June of 1992. I enjoy being around my teammates and working with everyone to keep the clinic in tip top shape.

A few of my favorite pastimes are fishing, hunting, watching sports and being a grandpa!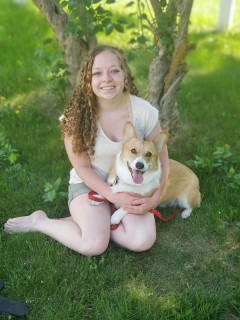 Meagan, CVT
Meagan grew up on a hobby farm that started her love of animals. She graduated from Ridgewater College in 2010 with an AAS degree in Veterinary Technology. She has worked here at Alex Vet Clinic since June of 2011. She lives with her husband in Alex along with two dogs and three cats. Other interests include theatre, music and many outdoor activities.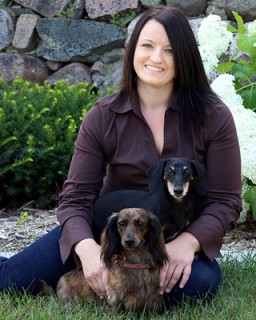 Cassie, CVT, CSR - CCRP
I have been a technician at the clinic since Fall of 2012. I currently work in our Client Services and Rehabilitation Department. I received my Liberal Arts degree in 2010 and Veterinary Technology degree in 2012. I also became certified in Canine Rehabilitation through the University of Tennessee in 2015. What I absolutely enjoy the most about our clinic is the compassion and education we provide to our clients and patients. I also have a passion for our rehabilitation program and seeing animals that are given a poor prognosis due to mobility make a full recovery and a second chance at life.

When I am not working I am enjoying time on my hobby farm with my husband. I have 4 dogs (crazy I know), 3 cats, 3 pygmy goats and a miniature donkey. I really enjoy camping, ice fishing and spending time with friends and family.
Amanda, CVT
I am a graduate of NDSU with a Bachelors in Animal Science and a minor in Large Animal and Art. I have been with AVC since 2017 as a Certified Veterinary Technician. I love seeing the babies come in for their first appointments and watching those animals grow. I also enjoy when cases come in with lacerations that require surgery. I enjoy being able to help them and get them back and running again.

When I am not working here at AVC, I enjoy being with my family, being outside, hiking and we love to craft together. I have 3 dogs and 1 cat that also make up a part of our family.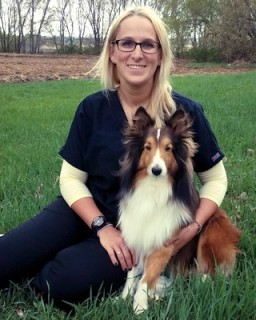 Samantha, CVT
Hi, I'm Samantha! I grew up on a hobby farm in Sauk Centre, MN where my love of animals got started. In 2011, I earned a Bachelor's of Science degree in Veterinary Technology from NDSU. I joined the team at AVC in 2018. When working at the clinic I enjoy assisting in dentistry and surgery/anesthesia. I also like working with critical care patients and being able to assist them getting back to their families healthy and strong.

My pets include a sheltie named Laddie and a Quaker parrot named Jack. In my free time, I love being outdoors, shopping, and spending time with family and friends.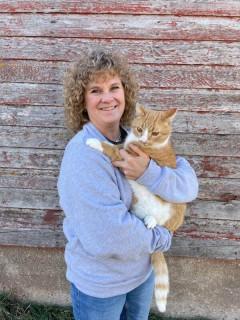 Jean, CVT
I have been a Veterinary Technician since 1995. I joined the team at AVC in March of 2018. I really enjoy working with the clients on their animals needs. I like to be able to rotate throughout the clinic, assisting in surgeries, interacting with the patients and clients in appointments and treatments. I like the variety of work that the field provides.

I love spending time with my family and being outside. I also like to read and work on woodworking projects. I have one dog and three cats at home as well.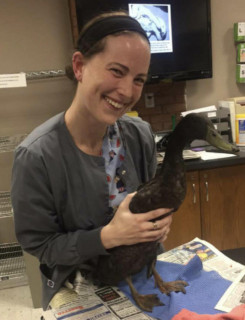 Taylor, CVT
I started working at AVC in August of 2019. I enjoy working with our team and helping others solve problems with critical thinking. I also like assisting in surgery, helping our doctors and patients during that time. I received my degree from Rochester Community and Technical College where I received my license as a Veterinary Technician.

In my free time, I enjoy watching movies. I also like to be outside when the weather is nice. I have three cats, Shadey, TT (Tiny Tigress), and Mitsubishi.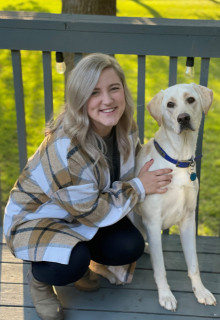 Taylor, Veterinary Assistant
I started here as a Client Service Representative and am now a Veterinary Assistant for the clinic. I enjoy how every day at the clinic is a new experience. The constant change and fast pace environment is what I appreciate about the work. Every day is a new learning experience. And who doesn't like animals, am I right?

A few things about myself! I have two dogs, Rico, a chihuahua mix, and Douglas, a lab. In my spare times, I enjoy kayaking, being at the lake with my dogs, ice fishing and being with friends and family.
Ashley, Veterinary Assistant
I recently joined the AVC team in the summer of 2021. I really enjoy working with cats, gaining knowledge and learning as much as I can. I have a strong passion, for teaching and educating our clients about their cats. I also like taking a look at things under the microscope and analyzing the specimen.

I grew up on a hobby farm where the spark of working with animals all started. I received my Animal Applied Veterinary Technology degree from Ridgewater College in Wilmar, MN. I love kitties of course, and I enjoy gardening, plants and flowers.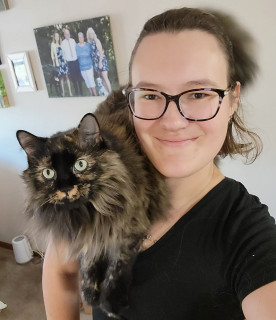 Becca, Veterinary Assistant
I grew up in the town of Drayton, ND. I received a Bachelors Degree in Animal Science from NDSU. My favorite things about working at the clinic is the variety animals that come in and the different technologies available to help them. Every day is a different case and makes it intriguing for me.

I enjoy knitting, hiking and watching NDSU football. I have 2 cats, Newbie, the one eyed wonder cat and Nala, the fluffy torti, and our newest addition, our pup, Argus, who was rescued from Devils Lake, ND.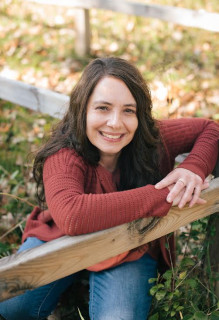 Lynnette, Client Service Representative
I grew up in the area on a dairy farm where companion animals have always been apart of my life. Its been an enjoyment to have a career at the Alexandria Vet Clinic and experience the bond between owners and pets.

My passions are gardening, nature walks and being a mom.

Kim, Client Service Representative
I became a Client Service Representative in April of 2007. I like working around animals. I also love seeing all the different dog breeds that come in. I enjoy interacting with clients and getting to know them better.

In my spare time, I like to do things around my house, remodeling different areas, cleaning and just being at home.
Barb, Client Service Representative
I started working at the Alex Vet Clinic as a Client Service Representative in March of 2017. I thoroughly enjoy working with farmers on the large animal side, as I can speak the farm lingo. I also enjoy working with my coworkers, as we are like one big family here at AVC. I like seeing all the different dogs that come in for boarding and grooming appointments as well.

When I am not working at the clinic, I like to spend time with my family. I also love to cook, making ice cream and hunting. I have three dogs, Angus, Barney, and Calvin. Of course we can't forget the kitties, Bug, Doug, Oscar, Crispy, and our Barncats. All of which we love and adore.
Tracey, Client Service Representative
I have been here with AVC since 2020. Even though I have a degree as a paralegal, I jumped at the chance to be part of the team. Animals have been a passion of mine since I was a little girl. It is a great feeling to know that the work you do everyday helps to make happier and healthier lives for the fur babies in the community.

In my spare time I enjoy spending time with my family. Outdoor activities are always at the tope our our list. We especially love to be on our beautiful area lakes. I obviously also spoil my own fur baby, Audi, when not working. She is a 3 year old gray and white domestic medium hair cat. Over the years we have had several dogs but we are really enjoying this little girl!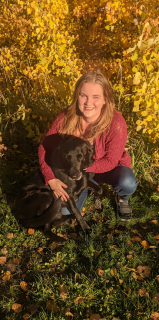 Chelsea, Client Service Representative
I have worked here at the clinic since 2020. I like to meet the new animals that come through the door. Along with meeting the pets that come in, I enjoy meeting the clients! It is a fun environment and fast pace.

When I am not working, I love to hang out with my family. I have one dog, Doug, who is a lab and two kitties, Fuzz Aldrin and Callie. We love them so much! Together, as a family, we enjoy watching movies and hiking together and of course the Minnesota Vikings.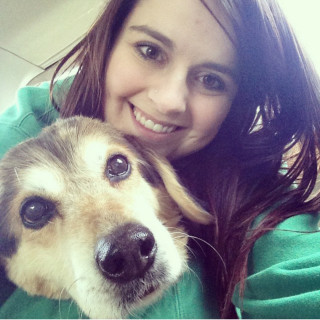 Bailey, Client Service Representative
I am very excited to work at the clinic! I worked at a different clinic in my hometown of Grand Forks, ND. When I saw this job was available, I knew I was finding my forever career. Animals have always been a true passion of mine since I was a child. Now getting to work around them is a dream come true. I cannot wait to share my ideas and thoughts with everyone and to help our clinic grow.

Fun facts about me! I have a springer spaniel/shih tzu mix named, Rosie, and a boxer named, Knox, they are quite the duo. We also have three cats, Jax, our orange tabby, and Brooks and Dunn, our black long haired kittens. My favorite past times are spending time with my little family, watching movies/documentaries, and going for walks (especially during the fall)!
Heather, Groomer
I started with the team at AVC in February of 2021. I apprenticed at a small grooming/boarding/retail place, where my grooming skills grew. I have been grooming now for 14 years. I like seeing different dogs and cats that get to come in for their haircuts. I enjoy working with the dogs getting them all pretty and handsome for their families.

When I am not grooming, I am showing show dogs! I really enjoy being around my family and working on our small hobby farm. I like to ride horses as well!
Animal Caretakers
Gene
Connor
Janel
Rylee
Madison
Olivia
James